Watching Interstellar, two things become apparent: Cooper is a badass, and so is his jacket.
Interestingly, we were almost robbed of Cooper's iconic threads.  In the screenplay stage, the Nolans intended for Cooper to wear a leather bomber jacket (driving home his past as a pilot).  But before production began, Nolan's costume director thought better of it.  As a farmer of harsh earth, Cooper would wear something practical.  A Carhartt work jacket—along with a t-shirt and durable jeans—fit the bill.
Cooper's jacket is brilliant product placement.  It's not just a can of Pepsi sitting in the foreground; it functions in the story, leaving a stronger impression than a logo close-up.  This jacket is so sturdy, it's running strong after a semi-apocalypse.  Clearly it could survive the meager hardships of my day-to-day life.  Thus began my search for Cooper's jacket.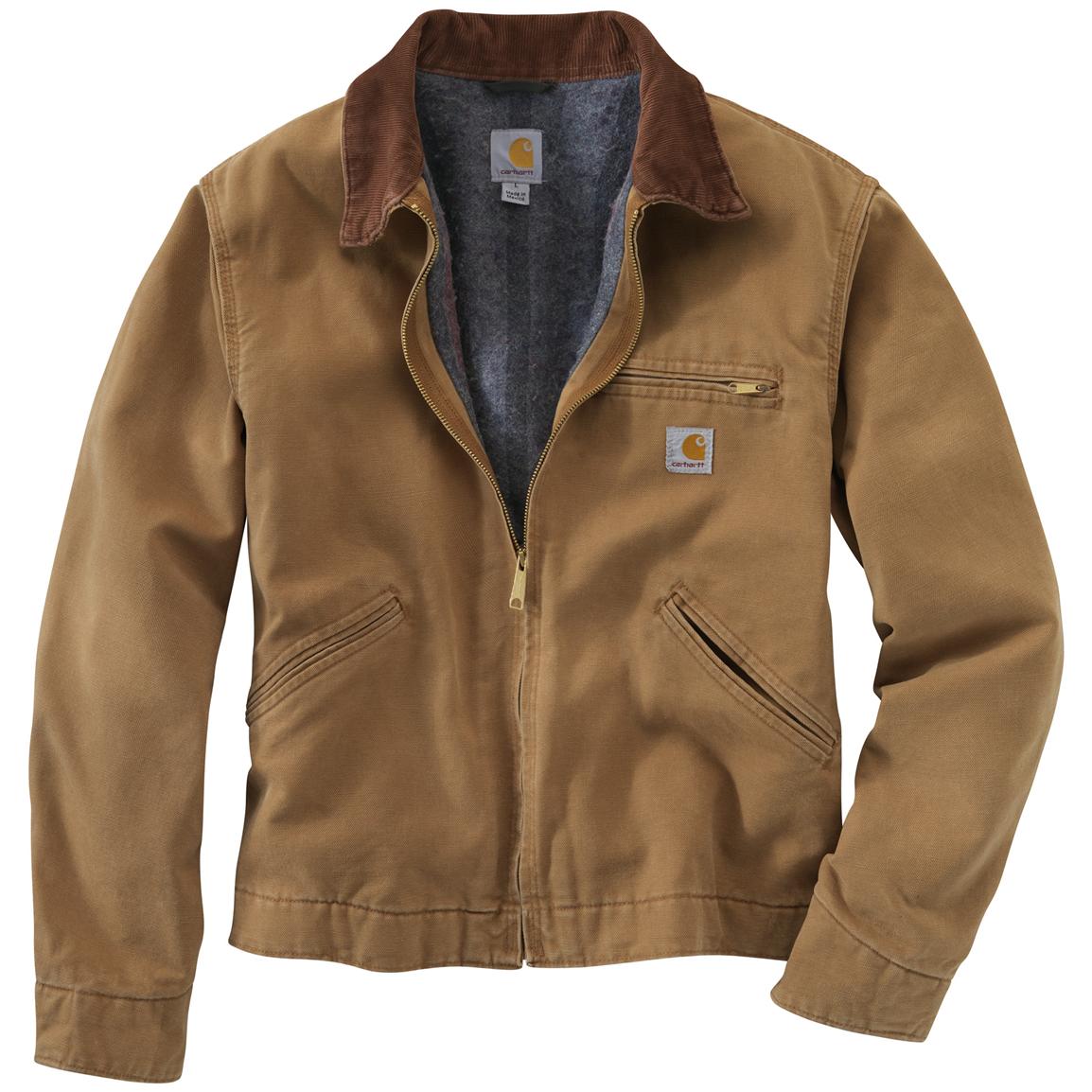 My initial inquiries turned up facsimiles, including this one from American Leather Jacket.  But without the Carharrt branding, it didn't feel authentic.  Amazon provided a few leads; however, they, too, were a little off.
Stepping back, I realized I needed to go right to the source.  After an exhaustive search of Carhartt's website, I put a name to Cooper's jacket: Carharrt Weathered Duck Detroit Jacket.  Now to buy the damn thing!  I struck out on Carhartt's website, where only very-large sizes were available, and 365 Outdoor Wear, which took my order but informed me two weeks later that they didn't have it in stock.
Annoyed but determined, I broke the emergency glass and pulled the eBay handle.  I placed my bid ($70) with a reputable seller, pleasantly surprised when the auction ended without challenge.  One week later, I slipped my arms into The Cooper Jacket.  And it didn't disappoint, my friends.
In my experience, warm jackets are bulky, limiting range of motion.  But that's not the case here.  This jacket is very warm—thanks to its blanket lining—without being cumbersome.  During winter, I would leave it on at the office (it fast became my trademark in meetings).  It's also highly adaptable.  If it's slightly cool out, you can wear it with a t-shirt; if it's 5 degrees out, you can wear it over a sweatshirt and hoodie.
Looking for your own Cooper jacket?  You can keep an eye on Carhartt's website, but they're frequently out of stock.  You can also try eBay.  Below are a few auctions ongoing right now.  The first one's the most promising, since there's multiple size options.
I wish you luck in your search.  It's well worth the trouble!
.